If you love customising your Android phone, you must've tried a plenty of launchers. I'm guessing you also have tried to install Google's Pixel launcher(or formerly Google Now launcher) by now. Unfortunately, the Pixel launcher was not fully featured/functional on phones other than Pixel series unless it was installed as a system app (because it was meant to be run on Pixel phones only). This means that if you installed the Pixel launcher on your phone, you wouldn't be able to use the Google Now integration, the long tap actions etc.
Fortunately, all of this has changed now, thanks to the efforts of a developer named AmirZ. Along with the help of another developer(DeleteScape), he's successfully ported the rootless Pixel launcher to all other devices running Android 7.x or above. (Although, this port may work on lower Android versions(upto Lollipop), it's Pixel exclusive features may not.)
So, if Pixel launcher was already ported before, what's different this time, you may ask. Well, this time, you don't need root access to use it with all of its features!
Here's the launcher in action(click on image to load GIF) :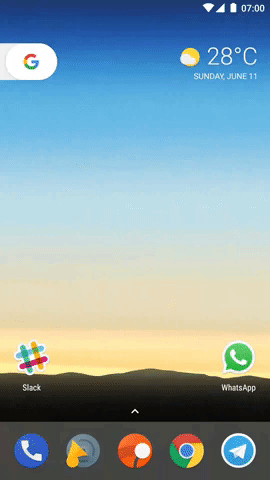 And some screenshots :
As you can see, this version of ported launcher has working Google Now panel, the G pill animation, swipe up for the app drawer, weather widget and the date widget.
And before you sway away from here to download the launcher in excitement, let me remind to you two things –
The subtle long press app icon shortcuts may not work for everyone, esp. if you're running Android 7.0
A small drawback? of this launcher port is that it has to have the same package name as the actual Pixel Launcher. Failing to do this results in the weather widget not working, so you will need to make sure Pixel Launcher is not installed before you try to install this one.
Download the fully functional Pixel launcher port from here. (Note: This app is not available on Play Store(duh), so the link given is the link to download the apk of the Pixel launcher port. For app updates, you'll have to revisit this link and download the latest version)
That's it! Enjoy your Pixel experience.